Sunday, December 28, 2008
Posted by

Elle
at 7:40 PM
6 comments


Friday, December 19, 2008
Going to the tree farm and cutting down our own tree.
A tradition born with our move to the country twelve years ago.

My Bookworm found a baby tree.
We finally decide on a White Fur.

To see more Photostory Friday posts head over to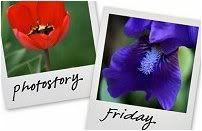 Hosted by Cecily and MamaGeek
Posted by

Elle
at 1:36 PM
8 comments


Tuesday, December 16, 2008
I continue to have a love/hate relationship with Christmas letters.
I love getting letters from others, I hate trying to write one for our family.
This year I came up with a way to let people know what we have been up to while giving a nod to the familiar 12 days of Christmas song. I had to change some numbers to reflect the real frequency of things in our lives.

In the year 2008 my true life gave to me …

1000+ ground squirrels in the vineyard
106 gymnastic classes
88 karate lessons
25 cases of wine
21 play rehearsals
12 beach days with boogie boarders
10 bins of fruit at harvest
8 diving classes
5 furry kitties that make sure there are …
NO MORE MICE
4 wine events
3 school calendars
2 sets of keys locked in the truck
And 1 black belt for my true love
Posted by

Elle
at 1:00 PM
5 comments