Yes we are a little late picking pumpkins..but better late than never.
So many different kinds!
Then it was time to carve them up.
Pumpkin Pumpkin
Round and Fat
I see your face just like that!
The kids will throw the seeds out on the back hill, hoping to grow their own for next year.
I am playing
Photo Story Friday
, check out more photo stories this Halloween.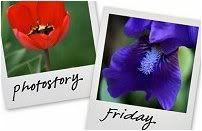 Hosted by Cecily and

MamaGeek