Round one - The tarantula hawk is trying to take down the tarantula. According to the artist and wildlife expert a tarantula hawk will paralyze it's victim with a bite and lay eggs in him - Eeeww!


Round two - The tarantula got away, until the artist captured him under a bucket for later observation.
See video here for details.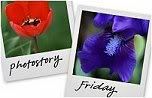 Hosted by Cecily and MamaGeek