Two of my brothers and their wives came to town to visit. One from out of state and one from a different part of California. My two brothers who live close by also joined in the fun. We were pleased to have the company of three of my beautiful adult nieces.
Highlights included:
My brother recording our 93 year old father reminiscing about his life. (3 hours worth!)
Some live bluegrass music, courtesy of two brothers and some good friends.
Alot of laptops, we are quite a "techie" family.
At one point there were five of us with laptops running.
I love my big brothers and their families. I feel very blessed to be part of this big family. We had a fantastic visit. To check out more photostory friday posts click
here
.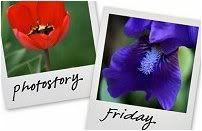 Hosted by Cecily and MamaGeek