On the way to a friend's house...
...an interesting traffic jam presented itself that was making us a little late.
As I tried to take this photo, my children started in...

14 year old Artist, "Why are you taking a photo, Is this for your blog?"

9 year old Bookworm, "Hey she needs to prove why we are late."

Bookworm, "Why don't you like her blog it is just a way for her to remember good things in our life, like the turtle." "Do you remember the turtle?"

Artist, "What turtle?"

Bookworm, "See you don't remember it, but her blog has it all remembered."

Artist, "oh whatever."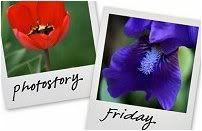 Hosted by Cecily and MamaGeek
For more photo story friday posts click here.