In a neighboring town there is an alley the locals call gum alley.


A little alley tucked away in the downtown. It is called gum alley because since the 1960's people have been putting their chewed gum on the wall. We finally remembered to show our kids the alley last fall.

Most of the gum is just a single chewed piece, but some people get elaborate and write words and draw pictures with the chewed gum.
It is weird, gross and sort of amazing all wrapped into one. My offspring who are germ phobic and love hand sanitzer, voted for mostly gross!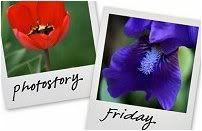 Hosted by Cecily and MamaGeek